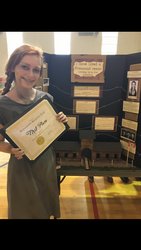 Emma Grace Clark Wins State Reading Fair
Clarkdale Middle, 8th grader, Emma Grace Clark, won 1st place in her category at the state reading fair.
Students in grades K-12 participated in the Mississippi Department of Education's 18th Annual State Reading Fair held in Jackson on April 19, 2016.
The Reading Fair provides students with the opportunity to share their favorite fiction or non-fiction book through a storyboard display. The goal of the Reading Fair is to instill a lifelong love of reading in students as they experience a deeper enjoyment and pleasure from reading gained through participating in the process.
Students entered one of four categories: individual, group project, family, or non-fiction. Within each category, students were judged in divisions based on grade level. Students competed in local competitions to advance to regional competitions. First place winners at each regional site advanced to the state level reading fair, where they competed against each other in their winning category.
Way to go, Emma Grace!