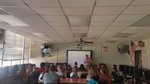 Dusty Culpepper shares information about Health Science career opportunities in Lauderdale County.
Cyber Foundations II classroom enjoys speaker...
The Cyber Foundations II classroom enjoyed a speaker last week who shared about career opportunities in the Health Science career cluster. Dusty Culpepper, a recruiter for Anderson Regional Medical Center, spoke with 8th graders at Clarkdale Middle School about the variety of careers available to them right here in Lauderdale County. Students learned about different careers through Mr. Culpepper's engaging game where students were asked health care related questions and had the chance to win up to $20 for their correct answers.